30 June 2015, Edition June 2015, Founders 2.0 (ABB)
For this edition of Founders 2.0 we are travelling to the IJ. We meet the founders of Liber Dock near trendy restaurant Fifteen and cultural hotspot Pakhuis de Zwijger: Marian van Eck and Boudewijn Kanen. Liber Dock focuses entirely on employment, businesses and participation rights, in other words a niche firm within a niche.
By Marloes van den Eeckhout & Yvette Kouwenberg
When setting-up the appointment we were told that the business concept of Liber Dock is expressed throughout every aspect of its business operations, and therefore also throughout its office premises. This becomes immediately evident as soon as you step through the door. We were welcomed into a large, open and bright area with work spaces to the left and right. These have been inspired by glasshouses, conveying the growth and transparency that represent the core ethics of the firm. The interior is a mix of design and vintage, and makes extensive use of natural fibres. The atmosphere is informal, but at the same time it exudes professionalism. There is a wooden, circular coffee bar positioned in the centre. Wood has also been introduced into the logo: a green tree trunk which symbolizes "building together, growing together". The walls are hung with inspirational adages, such as "when it comes to thinking, we don't need a box" and "stay hungry, stay foolish". As if all of this is not innovative enough…..the true showpiece is the wall behind the flex work space at the back of the coffee bar: a blueprint (or better said, a green print) of the company logo, created in moss which is kept vibrant using the humidity extracted from the airflow.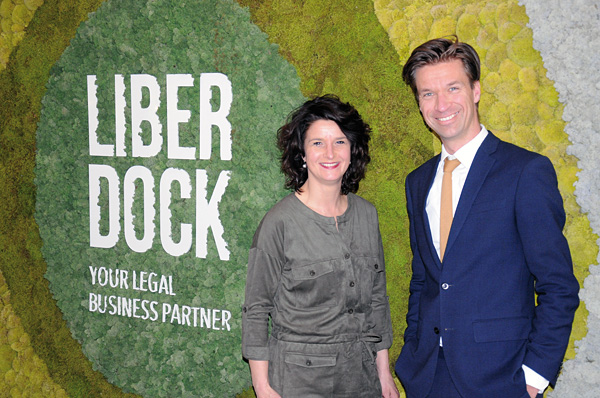 For the interview we take our seats in "Dock", one of the two conference rooms. It's easy to guess the name of the other conference room. This brings us straight to the subject of the somewhat unusual name of the firm. Marian van Eck explains the choice: "Liber Dock reflects our business model. Liber means knowledge and book, and it also means freedom. With the latter we aim to express that we are pioneers, separate from the stereotype legal practice. Not only in terms of look and feel, but also in terms of methodology. Dock, of course, means a port. Both in a literal as well as a metaphorical context. For our clients we are a home port and a port of knowledge. Our offices are also literally located at the Amsterdam Port. And finally, there is a slight quip with "docking station", but this is something that says a great deal about us. Everyone is welcome to make use of our flex work spaces.
Admirable indeed, but does anyone actually do this, we ask ourselves. "Absolutely", is the wholehearted response from Boudewijn Kanen. "Our clients like the chance to take a step away from their own desk and therefore enjoy making use of our flex spaces." Marian van Eck also adds: "At Liber Dock we form a business partner for our clients. This is a two-way system. We form a true working relationship with our clients. It constitutes the essential foundation of our firm. Our clients clearly feel therefore at liberty to sit down at our flex desk."
That work ethos is clearly not just an empty promise. Liber Dock is involved with a large number of change processes that are often political and media sensitive. Brainstorm sessions are held with the clients "to get from A to B". The client forms an integral part of that process. Marian van Eck: "In our opinion this cannot be any other way. The client ultimately knows the situation, is aware of the internal problem areas, which is valuable with regard to timing etc. We then gear the legal and strategic aspects to fit accordingly, just as marketing, HRM and, for example, finance form pieces of the puzzle. Our approach is one of legal facilitation, rather than one of leading as is so often seen in the legal profession." Because of the close working cooperation with the client the long drawn-out memos become superfluous. "More often than not a couple of A4 or power-point sheets are sufficient, whereby we use visuals and infographics, so that the client can easily pass this on internally", adds Boudewijn Kanen.
The close working cooperation is also reflected in the knowledge portal on the website, which is freely accessible to clients. There they can find, for example, "fact sheets" and contract templates. Boudewijn Kanen: "Many firms shy away from this because they fear loss of turnover. We don't share this fear. Our business model is based strongly on cooperation and trust. Serving the interests of the client is paramount. We are keen to assist clients. We provide tailor-made services." Marian van Eck: "It was a huge job, but the end-product is now a serious knowledge portal. Clients can find 90% of what they need, which is a tremendous cost-saving for them, and they then ring us for the remaining fine-tuning."
But Liber Dock goes even further than the legal field when it comes to finding ways to assist clients. Organizing inspiration sessions for managers, for example. "The theme of the session centres on leadership and mental strength and is led by a top hockey player. Not directly a legal topic, but extremely instructive. "For us too", states Marian van Eck. "Managing a company is effectively a form of top-level sport. Not only can managers learn the tips and tricks used in sport, but they can also learn and share from each other. This in turn also teaches us, which is invaluable for the practice. The relationship with the client is therefore very much reciprocal."
The reciprocity aspect is so strong that clients have ultimately been asked to provide feedback on the website and the business model. This will enable Liber Dock to truly meet the demands and needs of the practice. Liber Dock never forgets the birthday of a valued client and, as the icing on the cake, they play weekly sports with the team, and with clients if they feel like joining in, thus investing with each other in each other.
In brief: Liber Dock lives up to its name and is rightly included in this section!